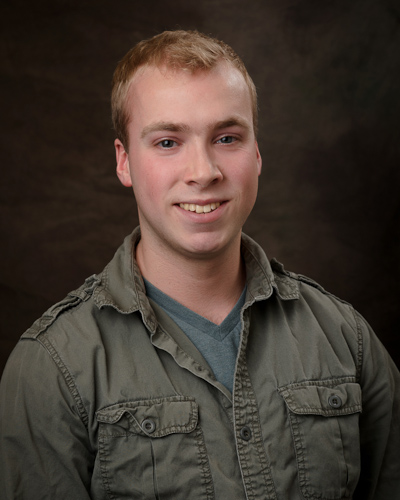 Eric's musical journey started when he was young and his grandparents bought him the $99 mini strat pack. At 12 years old he took lessons with Studio Director Joey Archer and has excelled at music ever since. Eric is a natural musician and teacher; whether talking about guitar or electronics (one of his other loves), he can't help but show you what he knows and explain how things work.
Some of Eric's favorite bands are The Killers, Hillsong United, Keith Urban, Rascal Flatts, John Mayer, Jars of Clay (first album), Sigur Ros (Icelandic), Death Cab for Cutie, Switchfoot, Weezer…and way too many others to mention. His playing style is really a mixture of most of these bands. Eric plays both electric and acoustic guitar, but prefers his electric. One of his favorite things about it is experimenting with his effects pedals, and the different combinations of sounds he can create.
Eric's enjoys playing both rhythm and lead guitar. He is one of the electric guitarists in the Repossess[BAND] and has played in front of thousands of youth in our community and across the country. He is also very involved in his church band where he plays on a weekly basis.
When asked about teaching guitar, Eric says, "I decided to start teaching guitar because it's fun, it's music, and it's something I enjoy. Seeing someone learning, and experiencing the joy of music is an awesome thing. It is like sharing a gift. Music has been a HUGE part of my life, and it just makes sense to pass on to others what I've learned over the years. Teaching guitar has become a passion for me and it's something I plan on doing for the rest of my life."
Outside of music Eric is a "fix it" guy. He loves building and repairing electronics so much that he built his own effects pedals and even repairs his own amplifiers. His tinkering side is expressed in the way he approaches teaching. When students are having difficulty learning a song or grasping a musical concept, he patiently approaches the situation from different angles. This enables him to effectively coach the student until they overcome the obstacle.
Joey remembers his first lessons with Eric well, "During his third lesson I taught him his first four chords, G C D Em. The next week, using those four chords, he had learned a song off the radio BY EAR! I asked him how he learned it and he said he just figured it out. I was amazed and knew he had a gift. Now, as a teacher, Eric's ability to communicate and his desire to help others is very evident. He is a great choice for you and your child to learn from."