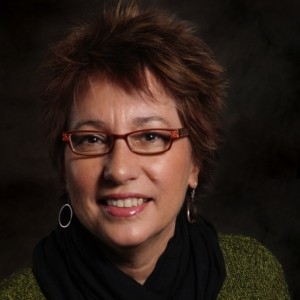 Laurel Gonzalo has worked in many areas of music following her graduation from the University of Puget Sound, Tacoma, WA with a Bachelor of Science degree in Music. After studying and performing in England and Europe she returned to live in Los Angeles, CA continuing her studies at Cal State Long Beach (electronic music) and University of California at Los Angeles (film scoring).
As a Worship director she has served in several different denominations and churches in California and Washington as pianist, organist, choir director and worship leader and toured with the Luis Palau Evangelistic Association Praise Band as keyboardist, vocalist and music director. As a composer she has written for musical theater, film and radio, and has worship choruses recorded and published by Maranatha! Music, Get Down Records and Team Med Uppdrag in Norway. Additionally her classical compositions have been performed in concerts in Los Angeles and on the radio. She won the 1988 Pacific Composers New Music Competition with a composition for string quartet and alto flute titled "Vinen's Dream". Most recently she was commissioned to compose a work in honor of Dr. Martin Luther King, Jr performed in 2012.
As a performer she sang with the Grammy nominated LA Jazz Choir, sang and played with her own band as well as leading worship extensively. As Professor of Music she taught 4 years at Life Bible College, San Dimas, CA. While a Consulting Educator at Seattle Pacific University one of her compositions was included on the "Psalms" album produced by the Center for Worship. Most recently Laurel has been the Worship Arts Director for 15 years at Church of Living Water in Olympia, WA, overseeing over 100 musicians with 5 services per weekend. During this time she also recorded and released two albums, "Christmas Reflections" and "Hymnotized".
She lives in Olympia, WA with her husband, Val and her dog, Hudson.
A few of Laurel's Compositions
Hymn-otized by Laurel Gonzalo
STUDENT REVIEWS
Where do I start when it comes to Laurel??!! As a piano player I studied under Laurel for over 10 years in many different facets of music. She is amazingly gifted and brings excellence to whatever musical task she is undertaking! She was a dedicated teacher and I grew so much musically and personally under her instruction. She taught me how to compose and arrange music using good technique, theory and chord structure and due to her extensive musical background she was able to expand my musical knowledge into many areas other than my classical training. (Ie: jazz, blues etc) Laurels skill level is phenomenal and if you ever have the chance to study under her you will be rewarded in so many ways like I was.  She's just a fun loving, kind hearted, talented, passionate musician! -Mary S
LEAVE AN INSTRUCTOR REVIEW