Ukulele Lesson Information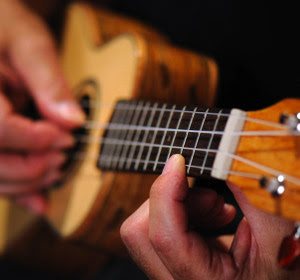 "The ukulele is a fretted string instrument which is, in its construction, essentially a smaller, four-stringed version of the guitar. In the early 20th century, the instrument's name was often rendered as ukelele, a spelling stilll used in Great Britain. The Hawai'ian spelling 'ukulele is very common."
Wikipedia
Ukulele is a great starter instrument for young children all the way up to adults. It is small, has only four nylon strings, and its ease of strumming means we will have you playing a song in your first lesson! In just a couple of months you will be playing many fun songs that you and your friends can sing along to. Ukulele was once listed in the Guinness Book of World Records as the easiest instrument to learn. This simplicity of the instrument makes learning exciting and its size and portability means you can take it on a long drive or over to a friends house.
---
What We Teach:
FUN UKULELE AND POP SONGS!
Right Hand Strumming Techniques
Chords and Rhythm
Note Reading
Tablature
Ages:
6 years and up
When/Where:
Sun – Fri: 9 am to 9 pm @ Olympia Studio
How Long/Frequency:
Lessons are once a week for 30 minutes and there are generally only four lessons a month. Longer lessons can be arranged (ie. 45 minutes or an hour) if the student so desires. For advanced students this allows for more time to work on advanced concepts.
Cost:
At Olympia Studio: $112 a month
No contract or "commitment" is required for Ukulele lessons. All lessons are taught on a month to month basis.
---
REVIEW OUR UKULELE LESSONS