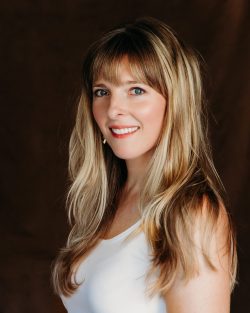 Crystal Zimmerman, Lyric Mezzo-Soprano, has made her home in the Pacific
Northwest since the summer of 2004. She has performed in operas, oratorios,
recitals, and musicals. Some of her favorite roles include Dame Doleful in Too Many
Sopranos, Second Lady in Zauberflӧte, The Baker's Wife and The Witch (on
separate occasions) in Into The Woods, and Desiree in A Little Night Music. Locally,
she has performed with Opera Pacifica, the Olympia Chamber Orchestra, SOGO, and
the SMU Wind Ensemble doing solo work in oratorios and major choral works; as
well as conducted the "Summer Sing" choir, directed Old Maid and The Thief, and
was the Musical Director for SMU's production of Once Upon A Mattress.
Currently, she works as Music Faculty at St. Martin's University, along with being a
founding member of Olympia Opera Theatre, Vox Olympia, and Forza la Femme.
Mrs. Zimmerman is pleased to have performed in Argentina, England, and, under the
direction of John Rutter, in Carnegie Hall. She also toured West Texas and New
Mexico with Broadway Babies. In 2022 she performed as a soloist with the Vratsa
Symphony in Bulgaria.
Crystal Zimmerman received her Master of Music degree in Vocal Performance from
Texas Tech University.
Mrs. Zimmerman teaches a variety of vocal styles. Posture, breathing, and free tone
are the first steps in vocal development. This is learned though classical technique.
She specializes in High School, Collegiate, and advanced singers but will accept
younger students on a case-to-case basis.
LEAVE AN INSTRUCTOR REVIEW