Welcome to the Jammin' Music Studios Blog!  We hope to use this blog to offer helpful advice, useful information, and tools to help you become a better musician.  We will try to keep the posts fun and relatively short and to the point.
I thought our first blog post should be a fun one….the "Pick of Shame"
Let me introduce myself…my name is Joey Archer and I am the owner of Jammin' Music Studios.  I teach guitar and bass lessons in Olympia, WA and in the Dupont/Joint Base Lewis-McChord (JBLM) area.
Every so often at the beginning of a lesson a student tells me that they don't have a guitar pick and asks if I have one they can borrow.  Before I say yes I first attempt to discover if they simply forgot theirs at home or if  they don't have any at all and have been using their fingers. I then jokingly tell them that because they didn't bring a pick to their lesson, they must use the "Pick of Shame," and I hand them one of these: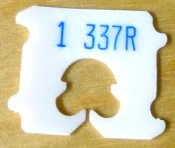 If you're ever in a bind and need a guitar pick,  bread clips work GREAT!  At least great as opposed to using your fingers.  They have enough flexibility to work like a light (.60 mm or so) guitar pick.   Though you may need to use a pair of scissors to shape them a little, they do the job.
There are a couple other options for guitar picks if you're in desperate need:
Credit Card (Dave Ramsey would love this one) – Instructions
Library Card, Costco Card – Same as credit card
CD – Instructions
Coins – These don't work great and the metallic sound they make is awful, but someone always asks about it so it makes the list.
If you wondering why I call it the "Pick of Shame" watch this….
We'd love to hear from you so please feel free to leave a comment here or on Facebook.
–  Joey Archer –
Jammin' Music Studios currently offers  guitar, bass, piano, voice, vocal performance, and songwriting lessons at our studio in the Lacey/Olympia area and in students homes in the Dupont/Joint Base Lewis-McChord area.  We also are in the beginning steps of offering drum lessons.  If you'd like to find out more you can contact us here.  "Like Us" on Facebook to get updates about our business and follow what's going on.