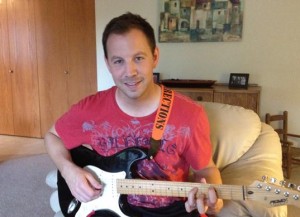 Week 2, Joey didn't disappoint. As a fan of rock and roll, Joey wasted no time teaching me songs I like and got me playing exactly what I was hoping to play. Both lessons we started with the basics.
For the second lesson, he gave me two songs to work on, Seven Nation Army and Ironman. We also worked more on how I'm holding the guitar and posture – making sure nothing else is supporting the guitar but me. And just like my first lesson, my futile attempts at playing the new songs were atrocious! Thank God for homework… after a few days at home, I got those songs down too.
The great thing is that with the short amount of time I've been playing, I'm already teaching others the songs I've learned. The lessons are easy and make sense and it was easy to teach my brother how to play.
-Ben