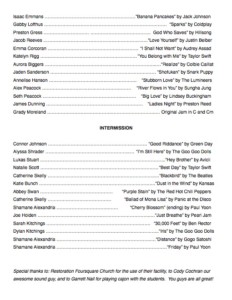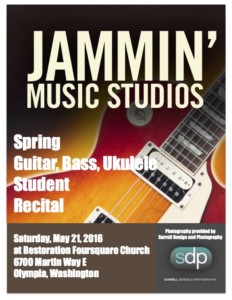 Our instructor (and owner) Joey Archer had a great recital with his guitar, bass and ukulele students. As a studio we strive to teach music that challenges AND interests the students. Many of the songs that were performed were chosen by the student and the instructor together. We covered the whole range from Pop to Metal.
We had performances by students who have been playing less than a year, all the way up to students who have been taking lessons for 6-7 years. We also had three Skype performances by students who moved away but still wanted to study with Joey (see photos below).
We are lucky to be friends with a fantastic photographer, Joel Sorrell @ Sorrell Design and Photography. He took photos of the performances and we even did a fun photo booth.
Some highlights were…
Tom Sawyer by Rush – Performed by Abbey. Abbey has had only been studying bass with Joey for less than a year! Truly remarkable progress in such a short time. There is a part in the middle where she nailed a solo that she had been working hard on for quite some time. We are very proud of you Abbey!




Shamane performed three very advanced pieces – Cherry Blossom Ending by Paul Yoon, Distance by Gogo Satoshi, and Friday by Paul Yoon. All very challenging and executed very well.




Shofukan by Snarky Puppy – Performed by Jaden. Another talented bass student who made a lot of progress in a short time. Jaden is a big fan of Snarky Puppy so Shofukan was a great choice. It has some challenging parts. Give it a listen.




Grady performed an original Jam in C and Cm. He shredded and wow'd the crowd with his melodies and solos.