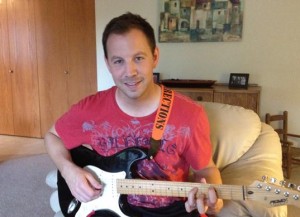 Hi my name is Ben McDonald. I'm 30 years old and just started taking guitar lessons at Jammin' Music Studios with Joey Archer.
I'm amazed at how little I knew about playing guitar. I knew it would be tough but, wow! I was holding the pic wrong, the way I was holding the guitar was wrong, and of course as soon as he said "ok, your turn", I totally botched the chords/song he was trying to teach me.
We worked on a finger exercise to get my hands working together and Joey also showed me Sunshine of Your Love. Great song! I thought I might be somewhat decent because in my opinion, I'm pretty coordinated, and am a quick learner, but It was so foreign to me that I was embarrassing myself. However, Joey was patient and said, "don't worry, you'll get it soon." At the time, I was thinking, "yea right!"
Well, guess what, I practiced every day for a week, sometimes longer than others – fifteen minutes to an hour every day. I memorized what we had practiced within a couple of days and couldn't stop playing. I'm having a great time.
-Ben